Welcome to the League of Women Voters of Stamford website!
Sign-up for our Voter's Guide – your email will only be used to notify you that the Voter's Guide is available.

CHECK YOUR POLLING LOCATION! – In Stamford, some voters have different polling locations for local elections than in state/federal elections. You should have received a postcard in the mail from the Registrars of Voters confirming your polling location. If you did not, use the voter registration look up tool to check that you are registered and where your polling location is.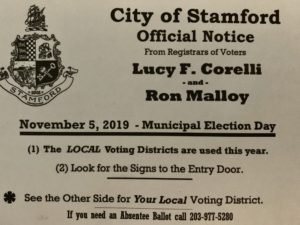 What's New? 
Next Meeting: Saturday, October 26th from 2-4pm, location TBD
If you are interested in volunteering, please fill out this form and the appropriate committee chair will contact you.
Ever had a question about voting or government? Submit a question for our FAQs page.
Check out our new series of fact sheets – What It Is and Why It Matters
Find out who is running this November and learn about new accessibility options at the polls.
Who are my Representatives?
They Represent Us – last updated October 2019
Census 2020
Are you looking for part-tie or full-time work? The Census Bureau is hiring for the upcoming 2020 Census. They need hundreds of people to staff their regional offices (ours is Danbury). Some jobs are local to Stamford, others can be done from home. It is important to have a complete count of all persons in CT as we stand to lose almost $3000 in federal funding for EACH  person not counted. You can find out more about available jobs at the links below. 
USAjobs.gov – Managerial jobs for the Census
2020Census.gov/jobs – All other positions
©League of Women Voters of Stamford
Last edited October 9, 2019