Welcome to the League of Women Voters of Stamford website!
What's New? 
Next Meeting:  Saturday, February 20, 2021 – Agenda
Special Election Tuesday, March 2nd for the 27th State Senate District
Voter's Guide and Registration for Candidate Forum
What It Is and Why It Matters – State Senator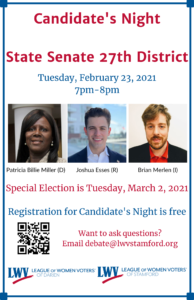 Ballot State Senator 27

Watch our new video starring high school and college students from Stamford, New Canaan and Norwalk! #makeyouthvotescount #itsyourturn
Questions about Absentee Voting? Voting in Person?  Registration?
Check out our new FAQs!
Ever had a question about voting or government? Submit a question for our FAQs page.
Who are my Representatives?
They Represent Us – last updated July 2020
Sign-up for our 2021 Voter's Guide – your email will only be used to notify you that the Voter's Guide is available.
If you found our 2020 Voter's Guide helpful, please consider making a donation to help us increase our Voter Services.
©League of Women Voters of Stamford
Last edited February 20, 2021